A typical day in teenagers life comprises of long hours of sitting through classes in school and tuition centers, doing homework, watching television and surfing the internet. With so much to accomplish in such little time, many teenagers find it hard to find time for their fitness and health. Since computer and Xbox games are quite popular among the kids today, the concept of outdoor games with neighborhood friends is gradually ebbing away. They prefer to stay at home and spend time playing games on the internet. Most of the time is spent in activities that lack physical movement. This increases the risk of several health problems like hormonal imbalance and obesity in teen girls and boys. Therefore, exercise for teenagers is of utmost importance. Establishing a teenage exercise plan that is easy to follow will help them maintain and develop good health as they experience many changes in their body during adolescence.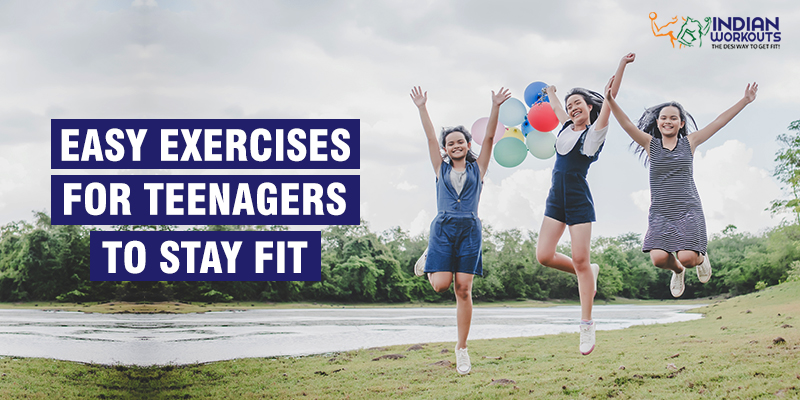 Why Exercise for Teenagers is Important?  
Teenage years are crucial in the development of the human mind and body. During this time, adolescents experience several physical changes in their bodies as they hit puberty. They grow in height, gain mass and weight. This makes them overly concerned about their looks and appearance. Adopting a good teenage exercise routine early in life can help them get through this phase of transformation smoothly. It can help them maintain their overall health and emerge physically fit in the later years of life. Also, it can reduce chances of developing any health issues and complications in the future.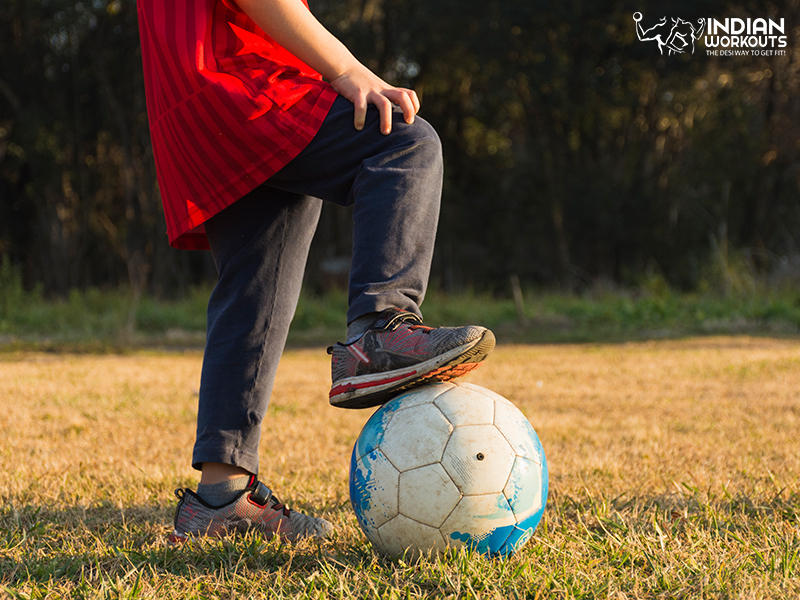 After a long day of learning, it can often be difficult to get them to perform some physical activities. Therefore, they must be able to discover what they love and enjoy. Developing a teenage exercise plan will help them acquire a habit of exercising regularly and into their adulthood. Parents have a significant role in encouraging their children to learn to exercise regularly. They can do that by setting an example and creating an active lifestyle themselves.
There are numerous physical benefits for teenagers who exercise regularly.
Physical activity can help them maintain a healthy weight and reduce the chances of obesity or other weight-related problems.
It helps them burn calories and control weight at a healthy level for a toned physique and shapely appearance.
At the same time, diseases like diabetes and high blood pressure are becoming increasingly common among teens. Staying active and maintaining good levels of physical fitness can prevent them from developing these chronic issues at an early age.
Physical activity can also help them maintain good cholesterol levels and strengthen bone density. This will delay the aging process and prevent chances of osteoporosis.
Regular workout improves the immune system and boosts the cardiovascular system. It increases stamina, body metabolism, strengthens muscles and enhances body flexibility. It improves muscle coordination skills and helps maintain great strength in the body.
Other than that, it gives them the ability to deal with stress and develop self-discipline. It improves their concentration power, ability to focus, and retention power.
Also, it is essential for their personality development. Regular workouts make them more confident and develop a positive attitude. It helps alleviate the chances of depression and improve self-esteem. Indulging in some sports activity and achieving the goals of the game can help them develop a sense of achievement and pride.
Moderate level of exercise is enough to experience a multitude of benefits of a good exercise routine for teenage girls and boys.
How Often Should A Teenager Exercise?
Exercise for any age group is a must because a lack of physical activity can cause the premature onset of old-age issues and lead to obesity. Therefore, children and teenagers must spend at least 60 minutes or more performing a physical activity each day. The intensity can vary from moderate to vigorous, depending on the type of exercise they choose to perform. Teenagers must create an exercise plan that includes muscle strength training and bone strengthening activities for 3 days a week, each. In addition, they must stay active in school and at home. They must perform daily chores on their own and participate in at least one sports activity that they practice at least 3 days a week.
Components of Good Teenage Exercise Routine
Exercise for teenagers is extremely important. They must maintain a balance as they strive to create a healthy lifestyle. A weekly exercise program for teens must include three important elements of a workout: aerobic exercises, muscle strengthening, and bone strengthening. This is simply because at this age their body is in a rapid development stage. They will grow in height, grow in weight and it is easier to develop muscle mass and make bones stronger. Aerobic exercises include any exercise that gets your heart racing. For example, walking, running, swimming, or playing a sport of your choice. Muscle strengthening exercises include lifting weights. This is especially important for boys who aspire to have a chiseled muscular body when they grow up. As for exercises for stronger bones, it includes jumping, planks, hip rotations, incline push-ups, and more. This will also help teenage boys and girls in their experience of the growth spurt. In addition, each session must focus on upper-body exercises, lower-body exercises, and core exercises individually. This is important for the overall development of the child.
Easy Exercises for Teenage Girls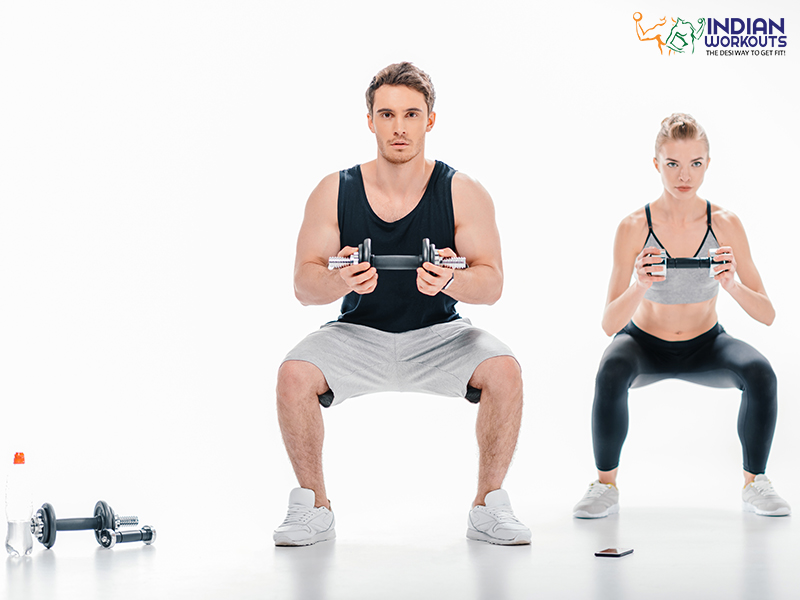 Squats: Squats are an excellent workout for the abdominal muscles, core muscles, and lower body muscles. Apart from toning and burning calories, it helps in increasing the strength in the entire body, improve flexibility, blood circulation, prevents injuries and allows you to develop good posture.
Technique: Start at the standing position. Keep your shoulders widened and back straight. Extend your arms forward and keep them straight. Legs must be shoulder-width apart and take a slow dip towards the ground by bending your knees. Hold the position for a second or two and push yourself back to the starting position.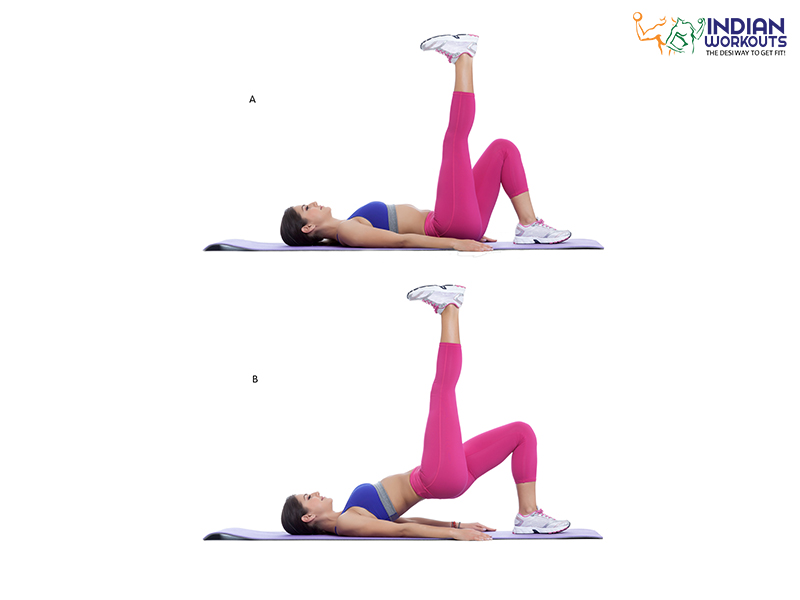 Leg raises: An exercise plan for teenage girls at home must include this workout also referred to as leg lifts. This workout is great to condition and tone abdominal and core muscles. It also strengthens the lower back muscles and helps fight lower back pains.
Technique: This exercise is performed in a lying position. Find a comfortable place on your back. Keep your feet together and your hands on the sides. Slowly, lift both your legs in the air. Try and keep them as straight as possible without fatiguing your muscles. Hold the position for as long as you can and slowly come back to the original position.
Jump Rope: Not only for teenage girls, this exercise is also an excellent cardio and bone-strengthening exercise for teenage boys. It improves muscle coordination and concentration. It decreases the chances of foot and ankle injuries. It helps you enjoy good balance and stability in the body and allows you to burn a large number of calories. Plus, it improves bone density and breathing efficiency. This movement will get your heart racing like during a vigorous workout routine.
Technique: All you need is a jump rope; start jumping slowly. Gradually, work up on your intensity and increase the number and speed of jumps over a period of time.
Bent Kick Backs: This is usually a part of glute training. However, this exercise for teenage girls help them improve complex movements.
Technique: Get on your four limbs. Make sure you have a firm grip before you start moving. Lift your left leg off the ground, pull it inside towards the chest and then push it back to your shoulder level as your leg is pointing towards the sky. Now, slowly bring it down, to the ground.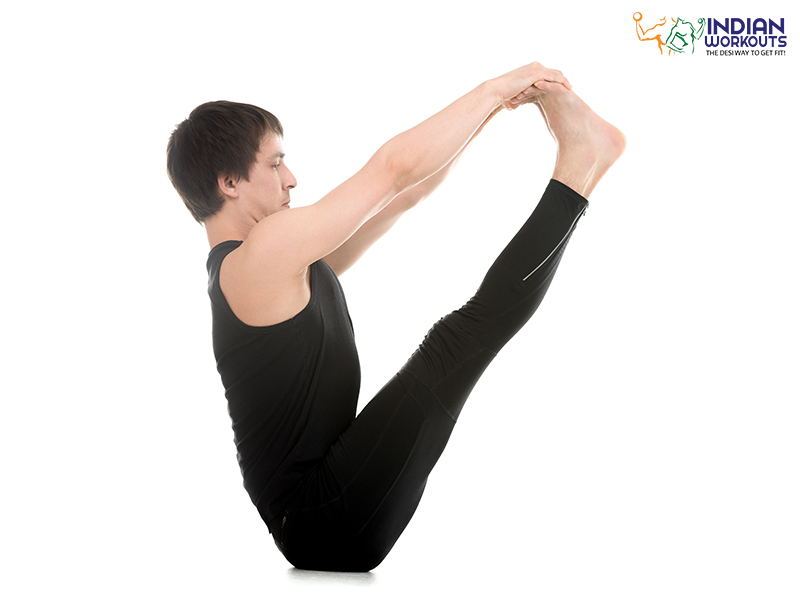 V Sits and Twist: This is also sometimes called seated twists or Russian twists. It is an effective strength-building exercise that targets core muscles. It improves stability and flexibility in the body. It is a great workout for all fitness levels and can be performed anywhere.
Technique: Find yourself in a comfortable seating position, then lift your legs up in the air. Make sure that your knees are bent. Now, lift your upper body and come in a seating position as you keep holding your legs in the air. Your body will take a shape similar to that of the letter "V." Now, extend your right arm to the left side of the back and twist your torso as you do it. Do a few repetitions before you lower yourself down on the mat for rest.
Exercises for Teenage Boys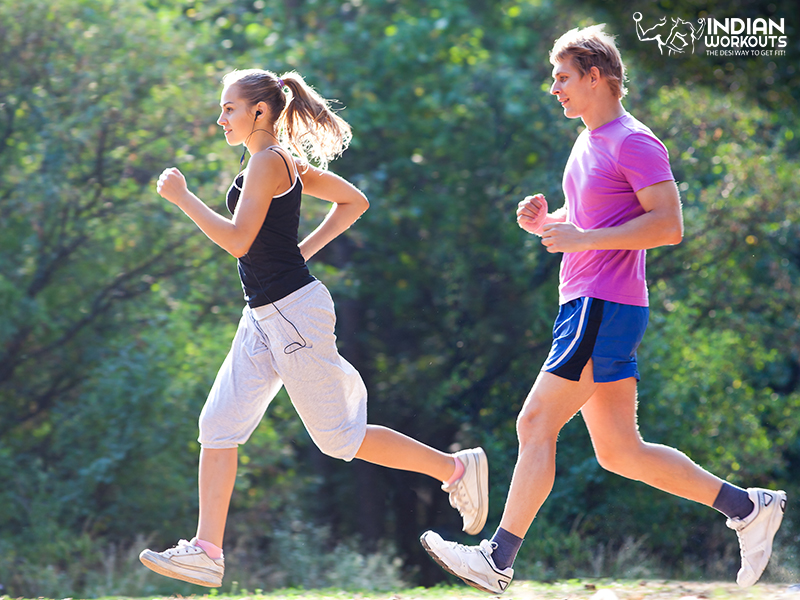 Walk, jog, run: There is no other better cardio workout than walking, jogging or running. One should begin with a short duration and slowly increase the time and speed. At least 60-minutes of walking or jogging can help in many ways. However, don't forget to take short breaks when you begin to feel exhausted. It is a weight-bearing exercise that can help build strong bones. It strengthens muscles, lung and heart health, and helps you maintain a healthy weight. It can contribute to your growing height too.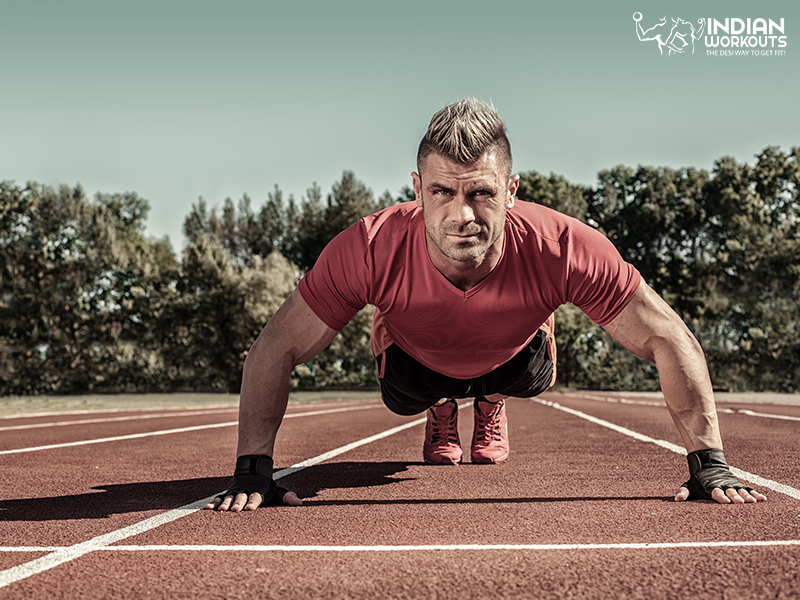 Push-ups: Push-ups is a classic workout that must be a part of every exercise program for teen boys. It is a total-body workout of sorts and it increases functional strength by activating most of the muscle groups of the body. It is even said to be beneficial for whole body muscle definition, and it enhances posture and cardiovascular health. It is certainly the simplest yet effective workout for men of all age groups. It targets several muscles at one time, such as deltoids, pecs, triceps, biceps core, and even glutes.
Technique: Start in the plank position. While you are the top of the plank, make sure your legs and arms are fully extended. Lower your body down as you keep your glutes and core engaged. Your body must be in a straight line as you push away from the ground and come back to the starting position.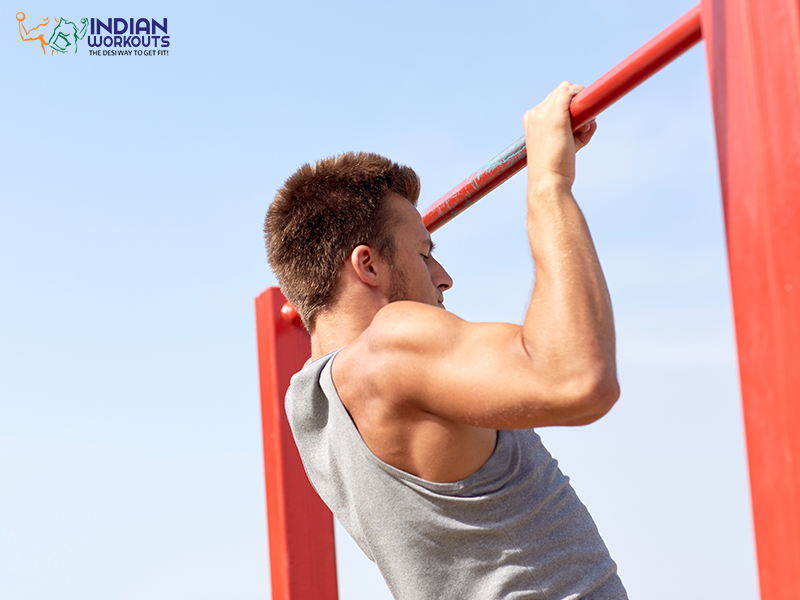 Pull-ups: Teenage years are a foundation for good health and developing a strong body. In order to achieve this goal, regular practice of pull-ups is the best exercise for teenage guys. It helps in developing pulling strength and muscle mass in the back and arms. Starting it early in life can help you achieve a bigger frame, wider shoulders, and a proportionate body. Pull-ups are an excellent compound movement that train muscles in the back, arms, shoulders, chest, and core. Though there are several variations, starting with a basic pull up exercise is a great idea.
Technique: All you need is a pull-up bar. Grab hold of a bar with a firm grip that is wider than shoulder-width apart. Pull it and lift your feet off the ground until you reach the bar at chin level. Hold the position for a second or two, then come back to the ground and repeat.
Triceps Dips: Dips are a compound push exercise that trains your triceps as well as forearms, shoulders, chest, and back. The best part is that they can be performed at a gym or at home, and there are several variations to enjoy.
Technique: It can be performed using a dip machine at the gym as well as at home using a sturdy bench or chair. Place your hands the bench at a shoulder-width distance. Lift your butt off the chair and take a dip to the floor. Your legs must be extended in front of you and elbows should be slightly bent. Keep moving towards the ground until the elbows are at a 90-degree angle. Once you reach that point, press into the bench to straighten the shoulders and return to the original position.
Weight Training: This is recommended for boys who have gone through puberty and can do weight training using their own body weight as resistance against gravity. This is the most effective form of strength and weight training that strengthens muscles and improves the flexibility of the body. It is important to begin with a warm-up session and combine it with cardio workout for complete workout. Apart from push-ups, pulls-ups and dips, they can choose from a wide variety of exercises such as lunges, squats, step ups, sit-ups, chin-ups and more.
Exercise for teenagers is vital for their overall development. Access to the gym is not necessary, these workouts can be performed at home. Essentially, it is important to stay active and fit. And this can only be achieved with the help of a complete teenage exercise routine. Establishing such a routine early in life will help them stay toned and fit for their entire life.